Do you know your masticating from your centrifugal juicers? If the answer is no, you're not the only one. It might seem intimidating at first, but once you can tell the difference on which juicer is which and how they function, you're good to go!  Read these shopping tips on how to buy the right fruit juicer:
What to look for in juicers?
Generally, a good juicer should have several key features in addition to other extra features, so look out for these key things when buying a fruit juicer: citrus press (for peeling and slicing), soft-fruit disc (to create smoothie-like, thicker drink), two speeds (Slow and Fast), safety lock lid (for user safety), pusher (to safely push veggies and fruits without hurting your fingers), non-slip feet (keeps juicer steady), XL feed chute (to fit bigger fruits), drip-stop spout (to prevent juice from dripping), and jug with foam separator (to keep foam away). If yours don't have these, look for another one that does.
What to choose: Masticating or centrifugal juicer?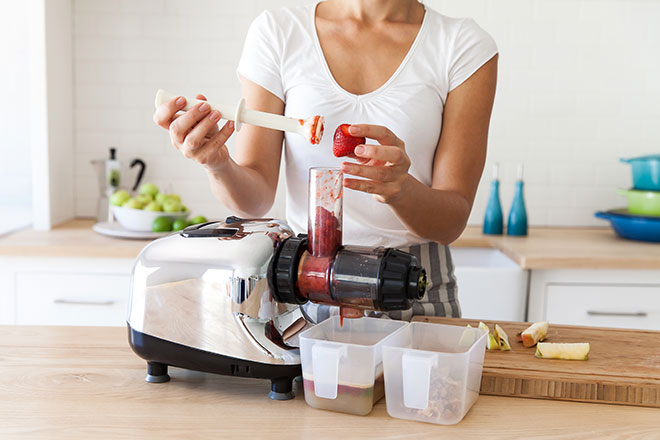 If you're on a budget, the more affordable and popular option is the centrifugal juicer. This type of juicer is widely available and is easier to clean than the other type. The juicer is also less bulky in form and requires less chopping of veggies and fruits prior to juicing. The downside to this juicer is that it is not really suitable for juicing soft fruits like berries, wheatgrass and greens. If budget isn't an issue, you can go for a masticating juicer, which is expensive and is not widely available. It doesn't make a loud noise when operating and is suitable for juicing soft fruits, wheatgrass and leafy greens. Plus, you can also use it to prepare other food like pasta. However, the downside to this juicer is that it's hard and takes time to clean since it comes with lots of parts.
Which is better: Nutribullet or blender?
Your juicer could either have a blender or a Nutribullet. If you prefer not to separate juice and pulp and would like to drink everything, a blender is the right choice. That said some blenders have filter sieves which separate pulp from your juice, so if you prefer to have a clear drink, look for these. When it comes to Nutribullet, it directly blends whole veggie and fruit into a cup. This type of blender would be great if you'd like a quick juice fix on a daily basis.
When buying a fruit juicer, you should also consider other things like how much you are willing to spend, in what ways will you prefer the juicer to function (based on personal needs), how easy is the juicer to clean, and in what ways will you be using the juicer (i.e. is it for household or commercial use?).